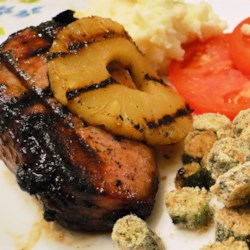 Welcome to From Coupons to Cuisine.  Each week, I will use one of the grocery store sale flyers to create a dinner based on the sales for that week.  The emphasis for each meal plan will be to create a dinner that is both healthy and frugal.  Each meal plan I create will make the assumption that you have certain staples in your refrigerator or pantry. I will include links to recipes for your convenience.
This week, our healthy and frugal meal comes from the Price Chopper Deals and Coupon Match Ups.
This week, I'm focusing on an EASY dinner that has nothing to do with turkey.  In just two weeks, we'll all be gearing up for a huge Thanksgiving meal with all the trimmings.  I'm figuring we are going to have our fill of turkey and turkey left over meals, so I wanted to stay as far away from poultry as possible.
What's for Dinner?
Pineapple Grilled Pork Chops
Stove Top Stuffing
Green Giant Veggies
Shopping List (Based on a family of four)
1-2  lbs Assorted pork chops @ 1.88 lb
1 box of Green Giant boxed veggies 1.00 ($1/3 10-02-11 GM = .66 each)
1 Can of Dole pineapple rings 1.25 (.50/2 11-06-11 SS or printable = .75 each)
1 box of Stove Top Stuffing 1.00 (.49 with iSave Q)
From Your Pantry:
1/4 cup brown sugar
1/4 cup soy sauce
1/4 teaspoon garlic powder
1 pinch ground black pepper
Putting it all together:
Drain pineapple rings and reserve the juice.  Put pineapple in container and refrigerate.
Mix together the drained pineapple juice, brown sugar, soy sauce, and garlic powder together in a large plastic zipper bag, and knead the bag a few times with your hands to mix the marinade and dissolve the sugar. Place the pork chops into the marinade, squeeze out any air in the bag, seal it, and refrigerate overnight.
Oil and Preheat grill or grill pan.  Grill pork for 5-8 minutes per side.
Grill pineapple rings and serve on top of pork chops.
Prepare stuffing and veggies according to package directions.
This meal will cost you approximately $5.00 at the grocery store this week. If you add in the cost for the few other ingredients from your pantry, you have a meal for four people for about $7.00.

*This post may contain affiliate links. Please see my disclosure policy for more information.*