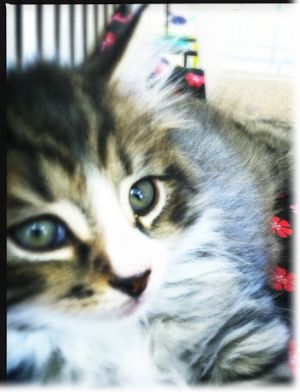 I've been fostering kittens for Hidden Treasures Adoption Center for about three years.  Currently, I have five kittens looking for new homes. (That makes 12 of the little beasties in my house!)  Adopting a pet from rescues and shelters like Hidden Treasures is actually the best way to save money when bringing a new pet into your family.
Believe it or not, getting a "free" kitten really isn't free. You have to take it to the vet for shots and to be spayed/neutered. When all is said and done, you'll spend at least $300 and a bunch of time and gas running back and forth to vet appointments.  Conversely, a donation of $120 is expected when you adopt a kitten through Hidden Treasures and the kitten you get is fully vetted: the kitten is spayed/neutered and given all its shots.  Plus, you aren't the one who had to run back and forth to the vet! Cats are less expensive to adopt, but again, they are fully vetted and healthy. Furthermore, if anything should go wrong in the future, Hidden Treasures will ALWAYS help with the problem or take the cat/kitten back without question.
Getting a "free" kitten from Craig's List or the newspaper also can have other hidden problems and fees.  Usually, the person you are adopting the kitten from is just happy to get it out of their house.  The kitten hasn't been treated for fleas.  Potentially, you could bring the kitten home and unknowingly infest your house with fleas.  Flea medication, sprays, bombs, and the time to wash ALL your linens and treat your rugs and fabrics is going to be huge expense of time and money.  All kittens and cats adopted from Hidden Treasures are treated for fleas so you don't have to worry.
I urge you to check out Hidden Treasures Adoption Center or a shelter in your area if you are thinking about adopting a pet into your family.  It's the frugal way to adopt a pet!

*This post may contain affiliate links. Please see my disclosure policy for more information.*